Oklahoma City, OK – May 10, 2016—Today, Oscium is announcing WiPry 5x, a dual-band spectrum analyzer that visualizes 2.4 & 5 GHz on both iOS and Android. By adding coverage to the Android market and supporting 5 GHz, Oscium has expanded their customer base and made some significant improvements. These strategic improvements give Oscium the ability to provide what customers need. Bryan Lee, President of Oscium, said, "We have listened to the professionals in the field and are excited about this release". Here are some highlights of the new product:
Universal platform (iOS and Android supported)
2.4 & 5 GHz dual band spectrum analyzer (RSSI & SSID's)
Discovers SSID's of nearby access points
Perfectly portable and easy to use
Oscium's WiPry 5x accessory connects to the host device as pictured here: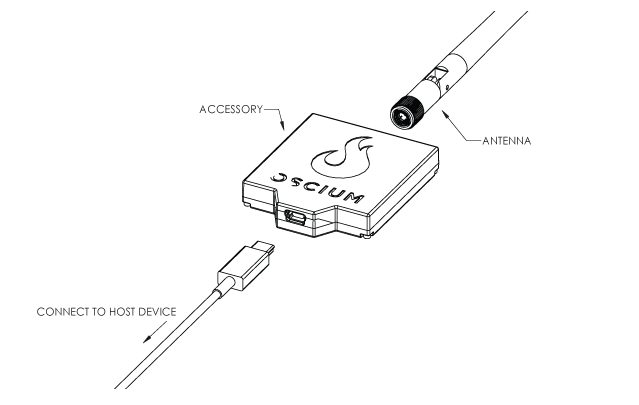 Then, download the software:
The host device is now transformed into a perfectly portable troubleshooting tool for all things wireless.
Availability
WiPry 5x hardware can be pre-ordered today for $499.97. Orders ship by June 30, 2016. Visit us at oscium.com to purchase or for more information.
WiPry software is free both in the Apple App Store and on Google Play. Although initial support will only include iOS and Android, the hardware is capable of supporting other platforms such as Windows, Mac and Linux. Compatible devices as of this press release are listed by operating system:
iOS version 7.0 or higher
iPhone 6S Plus, iPhone 6S, iPhone 6 Plus, iPhone 6
iPhone 5C, iPhone 5S, iPhone 5
iPad Pro
iPad mini 4, iPad mini 3, iPad mini 2, iPad mini
iPad Air 2, iPad Air, iPad 4
iPod touch [5th generation]
Android version 4.0.3 and higher
All Android devices with USB On-The-Go (USB OTG or just OTG) are compatible.
About Oscium
Oscium delivers innovative test equipment accessories that connect to a smartphone or tablet transforming the host device into a portable troubleshooting tool for field technicians. Hardware can be purchased from Oscium and free software apps are downloaded on either Google Play or in the Apple App Store. Oscium has been delighting customers since 2010 and currently offers the following products for purchase: LogiScope (logic analyzer), iMSO-204L and iMSO-104 (mixed signal oscilloscopes), WiPry-Pro Combo (combination spectrum analyzer & dynamic power meter), WiPry-Pro (2.4 GHz spectrum analyzer) and WiPry 5x [Dual Band Spectrum Analyzer (2.4 & 5 GHz) with Cross Platform Support].
The Future of Test Equipment is Here.